Airline industry association IATA has criticised European Commission proposals to tax the jet kerosene used for intra-EU flights, suggesting the move would be 'counterproductive" when it comes to sustainability efforts.
"Aviation is committed to decarbonisation as a global industry," says IATA director general Willie Walsh. "We don't need persuading, or punitive measures like taxes to motivate change."
The Commission today released proposals – as part of a wider package of measures dubbed 'Fit for 55' – to align a range of legislation with more ambitious targets regarding climate change, including achieving an EU-wide 55% drop in greenhouse gas emissions in 2030, compared with 1990 levels.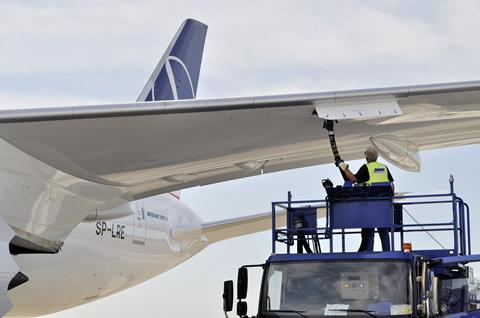 The proposals describe aviation fuel's current exemption from taxation as an "anomaly", suggesting it gives "the wrong incentive and should be rethought, in particular given the role of [the sector] in energy consumption and pollution".
The tax on jet kerosene used for intra-EU flights would be introduced "gradually" during a 10-year transitional period beginning in 2023, the proposals state.
"This means that 10 years after the entry into force of the new rules, kerosene used in the aviation industry to power planes for intra-EU flights would be taxed at least €10.75/GJ EU-wide, as for petrol used in road transport," the proposal document says.
Over the same period, sustainable and alternative fuels "will enjoy a zero-rate minimum tax".
The EU says that it expects the aviation fuel tax would be collected by fuel providers when they supply kerosene at airports, who would then transfer those funds to the relevant tax authorities.
Cargo-only flights would be exempted from the taxation.
But IATA says the introduction of taxation under the EU proposals is "counter-productive to the goal of sustainable aviation".
Walsh insists that taxes "siphon money from the industry that could support emissions reducing investments in fleet renewal and clean technologies".
He continues: "Taxation will destroy jobs. Incentivising SAF will improve energy independence and create sustainable jobs. The focus must be on encouraging the production of SAF, and delivering the Single European Sky."
The EU's proposals also state that the share of sustainable fuel at EU airports must reach 2% by the beginning of 2025, increasing to 5% from 2030, then 32% from 2040 and 63% in 2050.