The suspension of the 80:20 'use it or lose it' rule on slots should be extended into the 2021 summer season and possibly beyond, in the view of IATA's head of worldwide airport slots Lara Maughan.
The revised rules would be "something more balanced", however, than the "blanket waiver" agreed for the summer 2020 and winter 2020-21 seasons, Maughan states during a briefing ahead of tomorrow's IATA AGM.
"What we're working through with the airports and the slot coordinators isn't a blanket waiver," Maughan explains. "We're trying to put in place something that is a balance between protecting and preserving the slots that provide the connectivity and allowing new access for airlines that can restore their schedules quicker."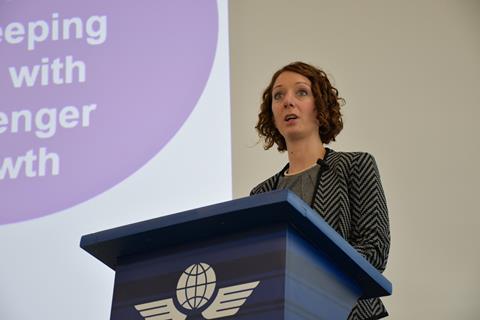 Noting that the 80% threshold set by slot rules is "obviously too high" in a global market where travel – particularly on international routes – is depressed and likely to remain so for some time, Maughan says she hopes the guidelines can be adapted to enable "some flexibility and upfront thinking, but also something that recognises there hopefully will be some recovery of traffic".
She stresses that a decision on the rules for summer 2021 is needed soon, with airline planning for the season well under way.
She adds that the revised rules should better reflect "the worst-case of operating conditions", to ensure they are suitable for all airlines.
When markets eventually stablilise, "the rules come in to play again", Maughan says of the 80:20 requirement, without putting a firm date on when that might be possible.
During the same briefing, IATA's vice-president for members and external relations Sebastian Mikosz observed that a revision of the slot rules would encourage airlines to take more network risks.
"We are trying to find a win-win in this situation… [that] allows airlines to be more inclined to take a risk and stimulate some demand, while knowing that if it doesn't work, they'll not have to pay the price of pulling out and losing slots," Mikosz states.
Speaking to FlightGlobal in July, Maughan highlighted that slots are often hard-won and expensive assets, and, in normal times, underpin networks that have taken "decades to build up", arguing it was unfair for carriers to lose them as a result of an unprecedented crisis.
IATA expects to put forward recommendations regarding summer 2021 to the relevant regulators soon, following an upcoming meeting of the Worldwide Airport Slot Board, which features representatives from airlines, airports and slot coordinators.
In successfully lobbying the world's slot regulators for a winter waiver, IATA joined forces with airports body ACI World and slot coordinators, in an unprecedented show of unity on the issue.
Airports in particular had previously expressed some reservations regarding the concept of slot waivers, arguing they can damage their businesses financially if carriers are encouraged to hold on to slots they do not intend to use.