EasyJet chief executive Johan Lundgren believes consolidation in Europe is more likely to happen through legacy carrier retrenchments rather than merger and acquisition (M&A) activity, in part because of state support keeping failing carriers in operation.
Asked about likely consolidation within Europe during the airline's full-year results on 29 November, Lundgren played down likely activity.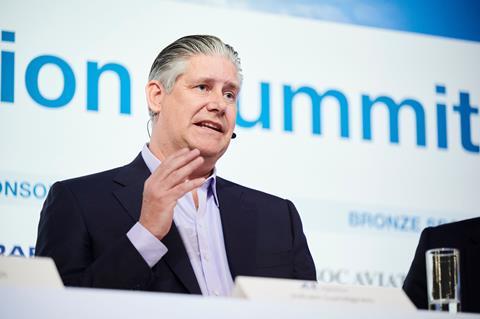 "I always said that I don't believe M&A consolidation will happen to the extent perhaps that some people think, partly because of the structure of European airlines," he said.
"There are a number of… companies that should have gone bust, but have been supported by their respective governments, so it is not clear there is a normal market rationale."
Italy is continuing its efforts to secure a buyer for ITA Airways, with Air France-KLM and Lufthansa among the interested parties. The former has also said it would be interested in looking at TAP Air Portugal, sale plans for which the Portuguese state is working on, while IAG is continuing its on-off pursuit of Air Europa having taken an initial 20% stake.
EasyJet last year itself rejected a takeover approach, reportedly from budget rival Wizz Air; whilst recent comments from IAG chief executive Luis Gallego around consolidation prompted media speculation over potential interest in carriers including EasyJet.
Lundgren though argues that following the Covid crisis, many carriers may not be in position to carry out major transactions.
"If you were to speculate on these things, who would take over who? Look at some of these debt positions. It's not like you are thinking some of them are in great position to do the transactions as you come through this. We have a very strong position from that point of view," he says.
"I'm still of the view, and so far been proved right, that M&A transactions are not as likely. I think this will continue with consolidation through retrenchment rather than through M&A."
On the point of retrenchments, he says EasyJet looks at capacity movements at its key primary airports. "We see that the main competitors are removing capacity, and we can expand on the capacity going in there."
Lundgren adds he does not rule out its own M&A activity, but stresses "It has to do two things. One it has to deliver value to the shareholder and its got to be doable. It's got to be something we feel we can execute with the risk level we feel confident about.
"But in general we are confident in our own plans to grow," he concludes.