From the perspective of Dion Flannery, chief executive of Ohio-based PSA Airlines, there are signs that pilot-supply issues plaguing US regional carriers are becoming less severe.
In April 2022, PSA lost 47 captains on top of the 10 that transition monthly to mainline partner American Airlines. "This April, we lost eight," Flannery tells FlightGlobal. "So, far better this year than last year in terms of an unsustainable level of attrition… But it's still too much."
Indeed, for the past 18 months, PSA has kept about 15 aircraft parked and waiting to fly for lack of pilots.
Such was the sentiment at the Regional Airline Association's annual Leaders Conference in Washington, DC, where industry analysts and executives met in late September to dissect a pilot shortage causing a broad contraction of air service to small and rural communities across the USA.
"It's not a debate about whether it's real or not ," Flannery says of the pilot shortage. "It's very real."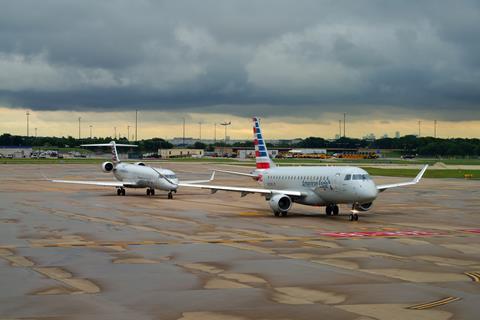 Regional aviation remains a critical cog in the country's transportation system, Martyn Holmes, chief commercial officer of Embraer Commercial Aviation, told conference attendees: "Even with factors like the pilot shortage and salary hikes, regional aviation remains the best way for mainline carriers to serve thinner markets effectively."
But the pilot shortfall is here to stay, according to Geoff Murray, a Chicago-based consultant at Oliver Wyman who says the effects of the shortage are likely to reverberate into the 2030s.
The firm's 10-year pilot forecast is less dire than one year ago, however. Last year, Oliver Wyman predicted North America would be short 17,286 pilots by 2032. Now, it expects a shortage of 13,305 pilots by 2032.
"The shortage is still there but is less than it was when we last forecasted," Murray told the RAA audience. "And the reasons for that are, frankly, fairly simple. One is associated with demand – a lot of regional aircraft are parked, and those parked aircraft don't need pilots. So, we have to adjust our demand forecast to compensate for the fact that fewer pilots are needed to fly a schedule.
"The other element is that when we look upstream at pilot certificate issuance, we are seeing more of those," he continues. "At the student pilot level, at the private pilot level… we're seeing those increased around 28%."
However, if regional airlines were utilising fleets at pre-pandemic levels, "the shortage would be exasperated by an additional 6,000 pilots", Murray says.
In April, Cirium fleets data revealed that 483 regional jets and turboprop aircraft were in storage for 11 regional carriers based in the USA – Skywest Airlines, Air Wisconsin, Endeavor Air, Envoy Air, PSA, Piedmont Airlines, Mesa Airlines, Horizon Air, GoJet Airlines, Republic Airways and CommuteAir.
Now, those same carriers have 408 aircraft in storage, according to Cirium, suggesting that regional airlines are finding success in getting aircraft airborne – or selling underutilised assets.
'VERY PERVERSE'
The continued growth of major US airlines will serve as an additional headwind for regional airlines attempting to bridge the gap. Oliver Wyman predicts that over the next 10 years about 75% of major airlines' new pilots will come from regional airlines, with 15% sourced from corporate aviation and the final 10% from the military.
PSA, for example, is in the difficult position of having pilots poached by major airlines – including its mainline partner.
"In meeting their own needs, they are taking an opportunity away from the regionals on which they depend," Flannery says. "So, it's very perverse."
PSA is "trying to be pragmatic about it", he says, adding that American has good reason to address the problem "structurally and holistically".
"It's a delicate conversation," Flannery says. "We feed their hub structures, and their hub structures feed the world. And the brand is the network, so there is tremendous interest for them to maximise that brand – and you need pilots to do it. We're caught as collateral. We're hit as much as anybody else.
"We'd love to say, 'Hey, you're hurting us and we're here to help you', but it's the nature of the circumstance today," he says.
The airline is "cautiously" returning more aircraft to service as its pilot attrition figures improve. "There are tailwinds on the pilot supply for us but we're still constrained. We still have a problem," Flannery says.
Chip Childs, chief executive of Utah-based SkyWest Airlines – a regional carrier boasting a fleet of more than 500 aircraft – revealed during the conference that his airline remains some 1,200 pilots below its pre-pandemic staffing level. SkyWest employs 4,300 pilots, compared with 5,500 pilots in 2019.
Childs estimates that SkyWest needs 1,000 more pilots than it had prior to the beginning of the Covid-19 pandemic to meet the current demand for regional air travel. He notes that demand is being boosted by the "de-urbanisation of the United States, where people are moving out of big cities into smaller mid-sized cities", and the rise of remote- and hybrid-working arrangements.
NOT JUST PILOTS
The shortage of qualified pilots manifests in more ways than parked aircraft. Massachusetts-based Cape Air, for example, is amid a long-term fleet transition away from its high-time Cessna 402s in favour of new Italian-manufactured Tecnam P2012 Travellers.
"There are challenges when you have a pilot shortage because you don't want to waste a ton of resources on pilots to be qualified in both aircraft," Linda Markham, chief executive of Cape Air, tells FlightGlobal. "But we have found ourselves in that position because of the pilot shortage."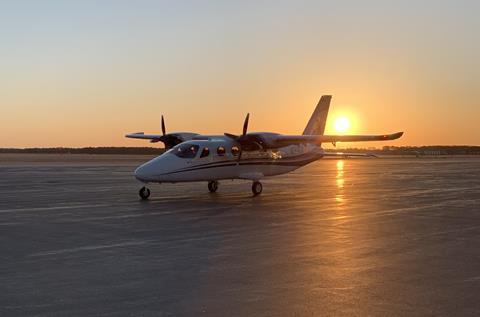 SkyWest's Childs cautions that aircraft maintenance technicians are also in short supply – which will be problematic if SkyWest's full fleet returns to service.
"We are going to need a lot of heavy maintenance to bring those aircraft back online, when and if we solve the pilot shortage," he says.
PSA lost 175 "seasoned mechanics" to major airlines and other carriers in the five months beginning in January, Flannery says.
"Only about a third of the folks we've hired back have relevant experience," he says. "So, we're starting fresh again. We have a lot of young aviation technicians, which means you have to go out and find additional third-party services to augment the technical skills you lost."
The regional carrier is also adjusting how it trains technicians, leaning more on its video library to help less experienced mechanics troubleshoot problems.
"That's going to continue to evolve – we probably have 1,500 of those quick reference links in our iPad environment," Flannery says "Not only do they have a manual, they can click a link and see a video vignette of exactly what they expect to see, which is better than a two-dimensional, black-and-white drawing."
NO 'EQUILLIBRIUM' IN SIGHT
Some regional airline executives lament that the RAA's ongoing push for legislative action to alleviate the pilot shortage has gone largely unheeded by US lawmakers.
"The thing we need from Washington, DC is to listen more to us than other special interest groups on… the pilot shortage and the lack of small-community air service," Childs says, seemingly alluding to pilots' unions that have argued no pilot shortage exists. "I think they're seeking advice from people besides us. We need to have a bigger, louder voice."
Flannery says the regional airline industry has been warning of a pilot shortfall dating back more than a decade without meaningful intervention from Congress.
"It's certainly our hope that legislative change and regulatory change will allow us to keep pilots in the business longer – to age 67 – and find much more productive and safer ways to train pilots," he says.
The RAA has advocated for expanded pilot-workforce development programmes and upping the mandatory pilot retirement age from 65 to 67. In July, the US House of Representatives passed a Federal Aviation Administration funding bill that would increase the pilot retirement age. The Senate is now working to approve its own version of the bill, though negotiations within both chambers have proved contentious due largely to pilot-related provisions.
US senator Ted Cruz acknowledged that the pilot shortage is a major issue during the RAA conference.
"There's a shortage of maintenance technicians, pilot examiners and, of course, pilots," the Texas Republican told attendees. "Dozens of small communities have lost air service and dozens more are operating substantially reduced air service."
"Major airlines and most regional airlines have fewer pilots and smaller workforce than pre-Covid," he continued. "As travel numbers continue to surpass 2019 levels, carriers are stretched extraordinarily thin."
The ranking member of the Senate Committee on Commerce, Science and Transportation, Cruz says he and his senate colleagues are "focused on how to solve these issues", pointing to the pending FAA spending bill that targets "common sense regulatory barriers that we can address to make a difference for the aviation workforce".
"The Senate bill looks at how to improve early testing protocols for high school aviation programmes," Cruz says. "It eases the pipeline for military mechanics into civil aviation careers and improves the airman certification standards programme."
Cruz expresses optimism about reaching a bipartisan agreement on tax incentives for pilot training and passing the FAA reauthorisation bill by year's end.
Meanwhile, regional airlines will continue haemorrhaging first officers and captains. PSA is currently "hundreds" of pilots short of being able to fly all its aircraft, Flannery says.
"It takes six captains and six first officers for every aircraft you're flying as a regional airline in the United States," he says. "If you've got 20 airplanes, you need 120 captains. To make 120 captains, you need to have 150, 160 first officers to do the upgrade."
"When you put it on that scale, it's years, not months, before the industry is going to be back in a position to say we've got equilibrium," Flannery adds.