While the collapse of two Colombian carriers within a month highlights the challenges for those operating in Latin America, the wider context remains that relatively few airlines – and remarkably few established names – have fallen by the wayside since the pandemic.
Colombian discount carrier Ultra Air, which had flown over 2 million passengers since its launch last year, suspended operations on 29 March. The shutdown came less than a week after Colombia's regulator warned that Ultra was at risk of defaulting on its financial obligations due to a cash crunch and after JetSmart scrapped a plan to acquire the carrier.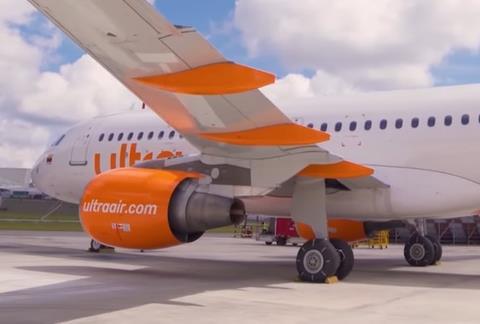 Ultra's collapse also came a month after financial problems at compatriot carrier Viva Air prompted it to suspend flights, citing regulatory delays to a planned takeover by Avianca as a primary factor.
At first glance the grounding of two carriers from the same country would appear to be the common thread, and Latin America is among the most challenging markets to establish financially successful carriers. Indeed, Ultra, hinted at an element of contagion in noting that Viva's collapse had "put industry suppliers and aircraft lessors on alert", noting they began to "demand immediate and even prepayment" for supplies and services.
However, arguably Ultra's failure has more in keeping with the collapses earlier this year of Flybe and Flyr in Europe. All three operators, or at least the revamped version of Flybe, started operations since the pandemic and as such were still to gain scale.
Norwegian start-up Flyr began operations in June 2021 but was forced to pull the plug on its services at the start of February. Ultra had itself operated for a little more than a year, while Flybe entered administration and ceased all flights on 27 January, having only commenced operations the previous April.
While travel demand was to prove stronger than probably any of these operators may have dared hope, the cost environment was hit by the spike in fuel prices which followed Russia's invasion of Ukraine, and supply chain issues made ramping up to meet that demand difficult.
Ultra, for example, cites rising fuel costs and exchange rate issues for generating "a substantial increase in costs". Administrators at Flybe, which have just disclosed the carrier had been "losing millions per month" almost from the outset, cite delays in receiving planned aircraft deliveries as a key factor in its collapse. "The ongoing impact of Covid-19 on travel, and the continued delay in delivery of 17 aircraft, impacted the ability of the company to scale up capacity and left it operating at much lower levels than forecast," the administrator's report says.
Another revamped carrier, US regional ExpressJet, which relaunched in October 2021 to undertake flights under the Aha brand, failed to last a year before it ceased operations last August.
Not that all carriers to have launched since the pandemic have struggled to grow. High-profile US start-ups Avelo and Breeze Airways continue to expand, as do the likes of Iceland's Play, Norway's Norse Atlantic and Indian operator Akasa Air.
Play chief executive Birgir Johnson believes the Icelandic carrier, which launched operations in June 2021 and now operates 10 Airbus narrowbodies, will this year reach the scale needed to utilise fixed costs. "This is really the year where Play is born as a company which is out of the start-up phase, out of the incubation period," he told FlightGlobal last month.
Airline failures in first quarter of 2023
Airline
Country
Suspended or ceased operations
Source: FlightGlobal research
Flybe
UK
28-Jan
Aeromar
Mexcio
15-Feb
Ultra Air
Colombia
29-Mar
Viva Air
Colombia
28-Feb
Flyr
Norway
01-Feb
Of the other airline casualties so far this year, both low-cost carrier Viva Air, which launched operations a decade ago, and long-standing Mexican regional Aeromar – which ceased operations in February – were more established operators.
Arguably the most revealing aspect of the past six months is how few established carriers overall have failed. This continues the counter-intuitive trend seen since the pandemic, where major airline failures have been few and far between – in part because of support for formal restructurings or state aid given to help bridge the pandemic, as well as the extremely strong yield environment.
South Africa's Comair and Alitalia, which ceased operation in June 2022 and October 2021 respectively, are probably the most established name to fail over the past 18 months. In Alitalia's case it was immediately replaced by a national start-up ITA Airways, whose sale to Lufthansa the Italian government is continuing to negotiate.
By comparison, Avianca Brasil, Jet Airways, Wow Air and Thomas Cook Group all collapsed in 2019.
Notable airline failures since 2015
Airline
Country
Ceased Operations
Source: FlightGlobal *reluanch plans in place **relaunched in 2022 and ceased in 2023
Comair
South Africa
2022
Alitalia
Italy
2021
Trans States Airlines
USA
2020
Interjet
Mexico
2020
Air Italy
Italy
2020
Flybe**
UK
2020
Thomas Cook Group
UK
2019
Wow Air
Iceland
2019
Jet Airways*
India
2019
Avianca Brasil
Brazil
2019
Air Berlin
Germany
2017
Monarch Airlines
UK
2017
TransAsia Airways
Taiwan
2016
Transaero
Russia
2015