Norwegian is "seriously evaluating" converting some of its Boeing options into a 737 Max 10 order, with the variant potentially suitable for destinations such as the Canary Islands and an unannounced new base.
Speaking during Norwegian's second-quarter earnings call on 24 August, chief executive Geir Karlsen said the carrier had been "kind of negative" towards the Max 10 in the past because of concerns over its range, but "new information" has "changed that to some extent".
Karlsen explains that today, Norwegian believes the Max 10 could fly between Oslo and Tenerife, for example, "but we didn't think that six months ago".
"We are evaluating now, seriously, on whether we should bring the Max 10 into our fleet," he says.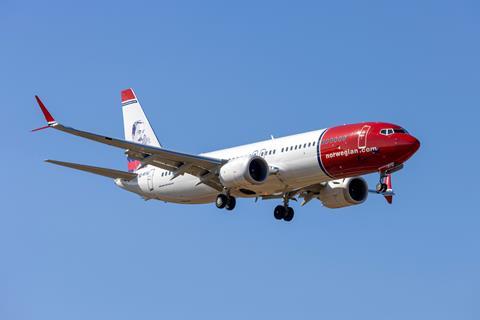 A Max 10 in a Norwegian configuration would have around 225 seats, Karlsen states, adding that the "big Spanish destinations" such as Alicante and Malaga would also be a "good fit" for the variant.
Karlsen expresses some doubt, however, about whether the variant's range would be compatible with flights between Helsinki and the Canaries. "Maybe, maybe not," he says.
Karlsen also hints that the previously announced but delayed opening of a base in Riga – which is now scheduled for next year – might happen alongside the opening of another non-Nordic base which could benefit from the Max 10's range capabilities. He says an announcement on that new base is forthcoming.
As part of an order for 50 737 Max 8s – which are due for delivery between 2025 and 2028 – Norwegian also holds options for 30 more aircraft.
Its current fleet of leased 737s – a mixture of NGs and Maxes – stands at 81 and is due to expand to 91 next year, before the first 10 Max 8s from its order arrive in 2025.
Boeing said in late July that it expects the 737 Max 10 will "begin FAA certification flight testing in 2023, with first delivery in 2024".