ITA Airways has taken delivery of its first Airbus A330-900 today at a ceremony in Toulouse, the fourth new Airbus type the Italian carrier has introduced since its launch in October 2021.
The aircraft, which is being leased from Air Lease, is due to enter service next month. ITA's A330s feaure a three-class 291-seat configuration, including 30 in business class. The business-class cabin features Thompson Vantage XL seats, which fully recline into lie-flat beds. Safran provides the seats for the economy and premium economy cabins.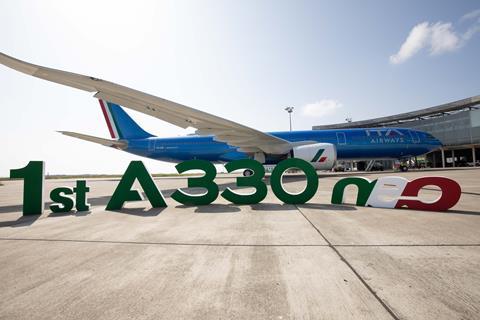 ITA Airways chief technology officer Francesco Presicce says: "Today the strategic partnership with Airbus takes one step forward. With Airbus, the unique aircraft supplier for our fleet, we have created a special synergy from the beginning, involving different areas of collaboration and business development, always with the aim of realising a more modern, comfortable and fuel-efficient air mobility, equipped with cutting-edge technologies."
ITA, which Lufthansa Group yesterday sealed a deal with the Italian government to acquire a 41% stake in, has already introduced three new types over the past 12 months as part of the overhaul of its fleet with Airbus aircraft. Its first A350-900 entered service in summer 2022, followed by its first A220-300 in October, then its first A320neo in February this year
The Italian carrier has 68 aircraft in service, comprising 50 A320 narrowbodies, eight A330-200s, six A350s and four A220s. Under its new business plan, ITA aims to increase its fleet to 94 by the end of 2027.