London Heathrow Airport has announced a capacity cap for the peak summer travel season and requested that its airline customers stop selling tickets for the period, citing the challenges posed by the "legacy of Covid".
The airport joins others including London Gatwick and Amsterdam Schiphol, which had already announced capacity ceilings for the coming months as the industry seeks to counter the operational woes that are causing long queues, poor flight punctuality, luggage delays and last-minute flight cancellations – and plenty of negative press coverage for the air transport sector.
In an open letter, Heathrow chief executive John Holland-Kaye writes on 12 July that departing passenger numbers at the facility will be capped at 100,000 per day through to 11 September and that airlines should halt new ticket sales for flights within that timeframe. He notes that based on current schedules, some 104,000 daily departing passengers are forecast to pass through the facility, meaning some will be required to rebook their flights.
More than 100,000 people have "regularly" departed the airport on a single day over the past few weeks, Holland-Kaye adds, with the airport seeing "service drop to a level that is not acceptable" on those days.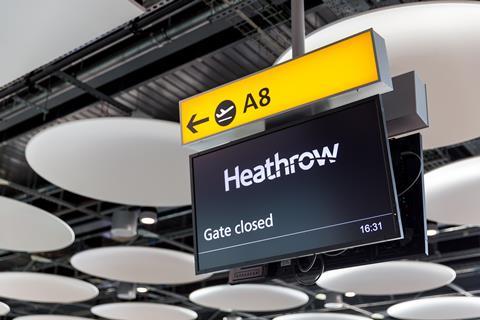 This latest move was prompted by the failure of a recent amnesty on airport slots in the UK to produce a sufficient reduction in airline flight schedules, the airport claims, despite the London hub's biggest carrier, British Airways, announcing thousands of flight cancellations for the period.
"By making this intervention now, our objective is to protect flights for the vast majority of passengers at Heathrow this summer and to give confidence that everyone who does travel through the airport will have a safe and reliable journey and arrive at their destination with their bags," Holland-Kaye states.
Staff shortages throughout the air travel chain continue to be the biggest issue, he suggests, citing airlines, ground-handlers and the airports themselves.
"There are some critical functions in the airport which are still significantly under resourced, in particular ground handlers, who are contracted by airlines to provide check-in staff, load and unload bags and turnaround aircraft," Holland-Kaye writes. "They are doing the very best they can with the resources available and we are giving them as much support possible, but this is a significant constraint to the airport's overall capacity."
At its recent AGM in Doha, airline association IATA said the industry was working on ways to better recruit and retain staff amid staffing shortages that are also affecting wider economies.