Boeing has reached an agreement with struggling aerostructures firm Spirit AeroSystems under which it will provide a funding boost to stabilise and support future 737 Max and 787s production rate rises.
Spirit AeroSystems says the new collaboration deal strengthens its strategic relationship with Boeing "for the long-term to fulfil operational commitments and airline expectations". Spirit has been beset by production challenges since the pandemic, most recently a quality issue involving the aft pressure bulkhead impacting 737 Max fuselages.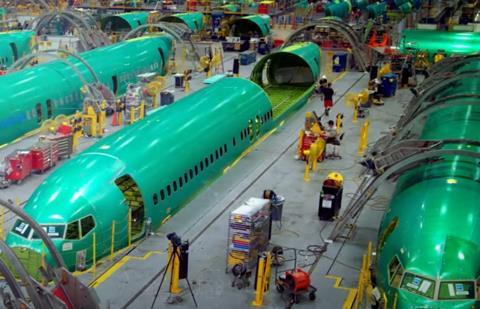 Spirit AeroSystems chief executive Patrick Shanahan, who took the helm on an interim basis after the resignation of former chief Tom Gentile at the start of the month, says: "Our collective teams will focus on further generating supply chain performance and resiliency. This united effort to synchronise our production systems will enable greater market responsiveness and delivery assurance."
A Spirit securities filing shows that under the agreement Boeing will provide funding "for tooling and capital through 2025 for certain planned and potential 737 and 787 rate increases", a portion of which – $100 million – will be received within 10 business days of the deal being finalised. The partners aim to finalise the deal on 17 November.
The agreement establishes new pricing, increasing prices Boeing will pay Spirit for 787 components in the near term and reducing prices paid for 737 Max shipsets delivered from 2026 onward. Those changes should lift Spirit's revenue by $455 million between 2023 and 2025, and reduce its revenue by $265 milliion between 2026 and 2033.
Repeated manufacturing defects in the 737 fuselages Spirit produces for Boeing drove Spirit to a $206 million loss in the second quarter of 2023.
Components affected by the production failings included 737 vertical fins and fastener holes on aft pressure bulkheads. The issues are forcing Boeing to inspect thousands of holes on some 165 737 Max 8 fuselages that had already been delivered to Boeing.