US aerospace companies continue to take radical measures to try to reduce the impact of the coronavirus on their business as politicians negotiate a federal aid package designed to assist businesses through the crisis.
GE Aviation intends to lay off 10% of its staff and furlough 50% of MRO workers for 90 days in response to collapse of air travel demand. The company builds the GEnx turbofan, which is an option on the Boeing 787, as well as the GE9X for the 777X. It is also a partner in CFM International, maker of Leap-series turbofans, which power 737 Max and Airbus A320neo-family aircraft. It is one of the first major aerospace companies to publicly announce significant lay-offs due to the coronavirus pandemic.
Meanwhile, Boeing's shares were suspended from trading on the New York Stock Exchange just before the company announced that it was stopping all production in its facilities in the northwestern US Puget Sound area for the next two weeks due to the virus. Staffers who cannot work from home during that period will receive 10 days of paid leave, Boeing says.
The developments come one day after reports that a Boeing employee at the company's Everett, Washington 787 site died of coronavirus infection. An employee at the company's North Charleston, South Carolina 787 site has also tested positive, according to reports. Boeing would not confirm either report, citing the need to respect workers' and workers' families' privacy.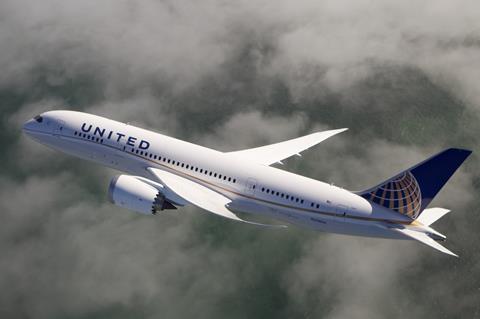 Airlines continue to adjust their schedules as demand warrants, with some carriers offering repatriation flights for citizens who have been stuck in overseas locations, after carriers cut their capacities and reduced operations one by one in the last several weeks.
United Airlines reinstated some of its international flights just a day after it suspended 95% of its schedule. The Chicago-based carrier said it will maintain three daily connections from North America to Europe, two to Asia Pacific and one to South America through the month of April. In addition, several flights to other destinations, to be completed by 29 March, will be repatriating US citizens.
Air Canada also reinstated some international flights, specifically to Spain and South America, in order to repatriate thousands of Canadians stranded in those locations. Vacation specialist Air Transat said early in the day that it would lay off 70% of its staff and suspend flights for the entire month of April. Together, the two airlines have returned more than 240,000 guests to Canada in the past week.
Meantime, in the US Congress, politicians continued to negotiate an aid package to help the industry as it suffers through the worst financial crisis in its history. A deal is expected to be announced sometime this week.
Over the weekend, CEOs of 10 major US airlines promised in a letter to the government that they could refrain from layoffs or furloughs if the aid was provided quickly.
Here are the details: