Boeing's troubles are far from solved, but the events of 18 November 2020 at least cleared a cloud that had overshadowed the Chicago airframer for 20 months.
On that day, the Federal Aviation Administration lifted the 737 Max's grounding, enabling airlines to resume flights and clearing Boeing to restart deliveries.
Then, in early December, Boeing scored other wins: On 3 December, Ryanair ordered 75 additional 737 Max, and on 9 December Brazil's Gol restarted Max flights.
For those reasons, 2021 starts with a rare (if narrow) beam of optimism for the Chicago airframer, though the company must still muddle through an industry collapse that poses unprecedented challenges. Several aerospace analysts have predicted that Boeing will not announce any major commercial aircraft development projects in 2021, but will rather focus on weathering the crisis.
"What I really want to see in 2021 is solid management of the [deliveries] of the Max", and "some level of stabilisation with the 787", says Michel Merluzeau, aerospace analyst with consultancy AIR.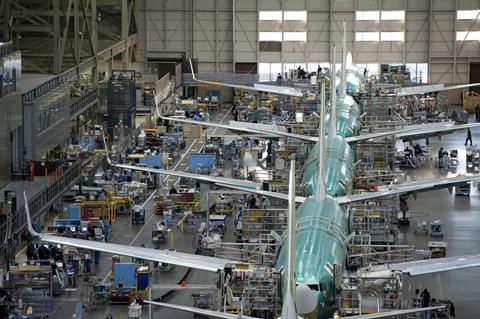 Among Boeing's primary 2021 tasks is finding a way to deliver hundreds of already-produced 737 Max. The company holds a stockpile of about 450 of those jets, and has said it intends to deliver about half of them within one year of the grounding being lifted.
"That's what going to bring some level of liquidity back into the company," Merluzeau says.
Boeing started that process in December when it delivered a 737 Max to United Airlines, marking the first delivery since the grounding had taken effect.
But getting jets into customers' hands may be no easy task because, at the present time, airlines have little need for more capacity.
"It's going to take creating thinking by Boeing in 2021 to work with customers", to convince airlines to swap out 15- to 20-year-old 737NGs with new Max, Merluzeau says.
And while FAA certification is a critical milestone, Boeing in 2021 will also likely be working to convince other countries' regulators to clear the jet.
Brazil already cleared the jet to fly, and agencies in Canada and Europe are expected to follow. But analysts have little clarity on when China's civil aerospace regulator will do so.
Analysts suspect China's clearance may be entangled within the US-China trade war and China's interest in promoting its home-grown, in-development Comac C919 jet.
"The re-certification in China remains a question and has been caught up in broader political discussions," says an 18 November report from financial services company Canaccord Genuity.
The report adds that, political forces aside, Chinese carriers are likely eager to resume Max flights due to the relative strength of the Chinese air travel market.
Uncertainty about the Chinese market creates significant risk for Boeing, as Chinese carriers could account for some 30% of potential Max deliveries, Steven Udvar-Hazy, executive chairman of aircraft lessor Air Lease, tells FlightGlobal.
"[A] big question mark is China, which basically stopped importing 737s," he says.
In 2021, Boeing also intends to continue restructuring its operation to reflect the current aerospace environment.
By the end of 2021, Boeing expects to have about 130,000 staffers – about 19% fewer than it had at the end of 2019, chief executive David Calhoun told employees on 28 October.
Departing employees have included mid-level managers and vice-presidents in Boeing's commercial aircraft division.
The company is also slashing its real-estate footprint by up about 30%, it has said.
Also in 2021, Boeing intends to cease production of 787s in Everett, consolidating that work at its manufacturing site in North Charleston, South Carolina.
Commercial aircraft production rates are also coming down. Boeing anticipates reducing output to five 787s and two 777s monthly in 2021, down from pre-pandemic rates of 14 787s and five 777s monthly. Boeing has not specified how many Max it expects to produce in 2021.
Some analysts think Boeing's ultimate output may be less than it has publicly projected.
"My primary area of concern is not necessarily the Max, it's the 787," Merluzeau says.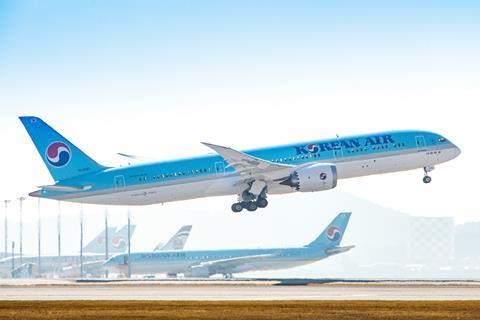 He cites particularly soft widebody demand and the likelihood that more 787s may hit the second-hand market if the pandemic causes more airline failures.
That could mean more supply and even less demand.
In addition to the 450 737 Max in its inventory, Boeing is sitting on about 60 undelivered 787s, Cirium fleets data shows. The company has acknowledged a slowdown in 787 deliveries due to the pandemic and to required inspections stemming from an airframe issue disclosed in 2020.
Delivering five 787s monthly would be a "best-case scenario" for Boeing, Merluzeau says.
He suspects Boeing will actually manufacturer closer to 50 787s in 2021 (about four monthly) and, on the optimistic side, as many as 130 737s (about 11 monthly).