Russia's airline industry is continuing to adjust to the impact of its home country's invasion of Ukraine, with this week seeing a number of developments that suggest it will be fundamentally changed for the foreseeable future.
The challenges faced by the country's carriers cover the full gamut of demand, networks, fleets and finances.
Indeed, while Russia's airlines have a large domestic market to fall back on amid curtailed international network options, the first full month of passenger data since the war started shows impacts on both sides of the network.
Aeroflot Group's passenger numbers fell by 20% year on year in March, it said on 28 April, with international levels halving and domestic numbers dropping by 15%.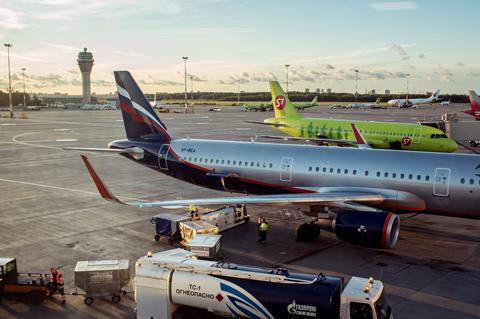 Furthermore, on the international side of the equation, relationships with other airlines are being parked, regardless of airspace restrictions making most overseas services impossible to begin with.
On 28 April, for example, Aeroflot had its membership of the SkyTeam alliance temporarily suspended.
That came a week after S7 Airlines was temporarily suspended from Oneworld.
Future opportunities to serve international destinations are being further curtailed by Russia's move to re-register hundreds of foreign-owned aircraft that were registered in Bermuda and Ireland – which had safety oversight responsibility for those fleets.
That had already prompted European regulators to blacklist 21 carriers.
This week, US aviation regulators downgraded the safety rating of Russia, declaring that the oversight authority is not complying with ICAO standards.
The impact of Russia's move to reregister aircraft is being keenly felt by some lessors, including Air Lease, which on 25 April said it has written off more than $800 million in assets as a result.
Wider questions are being asked about Russia's ability to maintain its air transport safety record – including how it will source parts and software support amid sanctions – although Russian federal air transport regulator Rosaviatsia has dismissed such concerns.
Amid a storm of challenging factors, the Russian government recently pledged subsidies of up to Rb110 billion ($1.3 billion) to support the local airline industry's operation.
The financial impact of the current situation has the potential to be significant for Aeroflot and others. That could mark an abrupt change for a carrier such as S7, for example, which recently reported a full-year profit for 2021.
And with Finnair saying this week that it is preparing for a "prolonged" closure of Russian airspace, a wider slice of the industry is accepting that a return to 'normality' will likely involve a lengthy wait.