Norwegian has entered into an agreement to purchase compatriot Wideroe.
The move comes after the two Norwegian carriers signed a letter of intent in July last year to "closely co-operate in a number of areas in the future".
Norwegian will pay NKr1.13 billion ($105 million) for the regional airline, it said on 6 July, although the price is subject to adjustments relating to Wideroe's profitability this year.
The low-cost carrier expects the deal to be closed by the end of 2023, it says, subject to regulatory approval from the country's competition authority.
"Our two airlines have existed side by side for many years and no one knows the aviation market in Norway better," says Norwegian chief executive Geir Karlsen.
"With this transaction, we will now create a streamlined and more comprehensive offer for all customers, and we look forward to offering seamless travel across our entire route networks."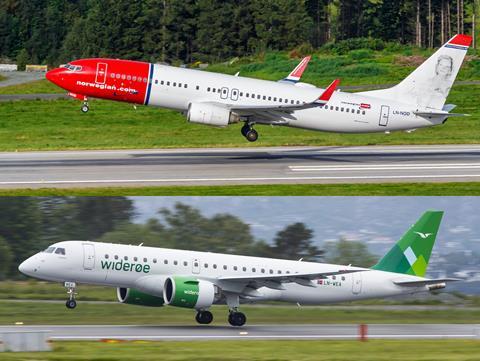 The intention is for Wideroe to retain its brand and separate headquarters in Bodo, Norwegian says. It will operate as a business unit "independent from Norwegian´s core low-cost carrier operation".
Norwegian cites the potential benefits from "linking Wideroe's wide-spanning regional route network, covering more than 40 small and medium-sized airports across Norway, with Norwegian's attractive domestic and international routes".
The purchase comes with Norwegian still ramping up capacity following a pre-Covid-initiated business transformation, which has seen it focus on its short-haul network from Scandinavian bases. It is operating around 80 Boeing 737-family aircraft during the current summer season.
Wideroe serves a largely domestic network with a fleet of around 50 aircraft, dominated by De Havilland Canada Dash 8 turboprops. It also operates a handful of Embraer E190-E2 jets.
Wideroe has been notably ambitious regarding zero-emissions aircraft, aided by the fact that the short sectors on its domestic network would theoretically suit in-development types.