Latvian carrier Air Baltic will potentially wet-lease a proportion of its Airbus A220-300 fleet to other carriers for a number of years, as its home markets recover from the pandemic and it adjusts its network in response to the Russia-Ukraine war.
Some 11 of Air Baltic's 33 A220s are currently wet-leased between Eurowings, Eurowings Discover and SAS, operating from bases including Dusseldorf, Munich and Stockholm.
The decision to lease-out the aircraft came amid a slower-than-expected demand recovery from the pandemic, the carrier said in a full-year results briefing on 14 April, which has been exacerbated by the impact of the Russia-Ukraine war.
"In our business plan, we have a slower Covid recovery scenario, which means the passenger traffic rebounding in the Baltic states is on a slower pace than we would like," says Air Baltic chief financial officer Vitolds Jakovlevs.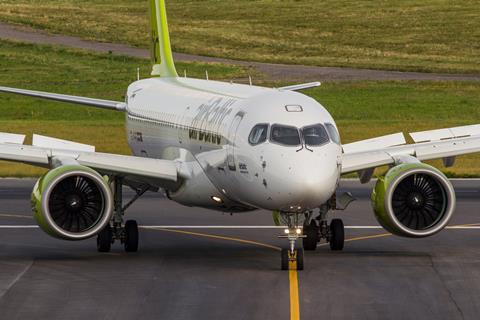 As a result, for "the foreseeable future – the next two, three, maybe even four years", Air Baltic intends to wet-lease-out a proportion of its fleet.
"This is always with the asterisk that if we see that we have our own demand for the aircraft, then obviously we will divert those ACMI aircraft for our own operations… and increase our profitably even further," Jakovlevs adds.
Despite the market uncertainties, Air Baltic chief operating officer Pauls Calitis notes that the Riga-based carrier will continue to take more A220s through to the middle of 2024 based on existing firm orders, increasing its fleet to 50 examples of the type.
The wet-lease decision is simply about "bridging the recovery of the market", Calitis states.
"Crew and all employees understand… this is a way for the company to be successful."
Future opportunities to base aircraft outside the Baltic states are also being considered, as the airline prepares to launch a single-aircraft base in Tampere, Finland, in May.
"We have a number of other opportunities that are being evaluated," says Calitis.
More immediately, Air Baltic chief executive Martin Gauss told FlightGlobal in late March that the airline was responding to the Russia-Ukraine situation by "offsetting what we can't earn there by flying to the west", alongside moving capacity to the wet-lease operation.
Air Baltic reported a net loss of €135.7 million ($148 million) for 2021, compared with a loss of €264.6 million in 2020. The carrier was not profitable in the last pre-Covid year, reporting a net loss of €7.7 million in 2019.
It notes, however, a positive EBITDAR of €300,000 for 2021, following a €152.3 million loss in 2020.
The carrier's 2021 revenue of €204.1 million compares with €144.8 million in 2020 and €503 million in 2019.
Air Baltic's revised business plan predicts the carrier will become profitable in 2024 – the year in which the airline intends to launch an IPO.
Jakovlevs suggests that the work the carrier has done on costs over the past two years – including through the consolidation of its fleet into a single aircraft type – makes sustained profitability more achieveable.
Air Baltic notes that its firming of 30 A220 options is dependent on progress with the IPO.