Lisa Butters spearheads Honeywell's semi-autonomous used parts trading platform GoDirect Trade, making the most of her online development experience to champion disruptive technologies such as blockchain. She outlines her ambitions for the business
Lisa Butters is a self-confessed "tech-geek" who graduated and began a career in web programming at 19. She is also a "professional online shopper, who could name 20 online stores and exact details of the user experience off the top of my head". Those credentials make her ideal to helm GoDirect Trade, a trading platform for aviation parts. The business, launched a little over a year ago, is one of around half a dozen "greenhouse" incubators within the larger Honeywell organisation. The idea is that each venture behaves like a small Silicon Valley start-up, funded by Honeywell in the role of venture capitalist, but independent enough to be agile.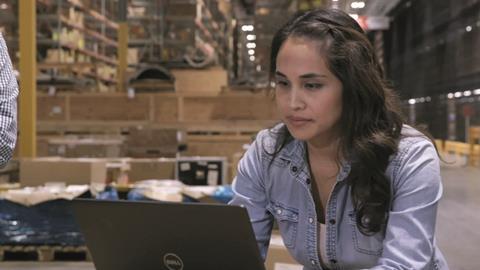 "It's pretty exciting to run a software start-up inside a 100-year-old company," says Butters, who has spent time in IT, customer product support, and sales roles with Honeywell. Her team is only five-strong – although she can draw on some central Honeywell resources such as legal and financial for support. Being small, she says, helps when it comes to being able to innovate rapidly. "In a big corporate culture, there can be lots of layers. We are an autonomous team, which means we can collaborate, assess and make decisions within minutes."
Although "powered by Honeywell", GoDirect Trade is an open platform that allows vendors – including Honeywell, but also some of its competitors – to sell directly to buyers by setting up their own "storefront". While e-commerce in new and used aircraft parts is estimated to represent just over 2% of a $4 billion market, competition is lively, with about 20 rivals offering similar trading. However, Butters maintains that it is the only one that requires all vendors to post price, relevant paperwork, and a photograph as a condition of listing a product.
There is another crucial difference with other parts trading platforms. GoDirect Trade is the only one that uses blockchain to establish trust between buyer and seller. This is crucial when trading safety-critical, certificated components. "For serialised parts, we use the technology to collect as much information as possible. Blockchain is a highly secure way to crowdsource this sort of data," says Butters. "It was really the breakthrough to establish this trust. We started with the customer problem that customers were less likely to check out [complete an online purchase] because of trust."
Her passion for blockchain ¬– a growing list of records, or blocks, linked using cryptography – has led to the technology being picked up in other parts of the company. "GoDirect Trade has caused an explosion of interest in blockchain for Honeywell," she says "We are the leaders in terms of how we are expanding and leveraging it across our manufacturing eco-system and our software applications."
GoDirect Trade processed just over $5 million in sales in 2019. It is still a small proportion of the overall used parts market, but Butters sees a strong future for e-commerce in aerospace. "Gen Z [those who reached adulthood in the second decade of the 21st century] are going to demand digital. Those generations will not only be comfortable with purchasing online but they will simply demand it."
There are currently around 50 "storefronts" on the platform, all of which pay money to be on the site. "Once you get to 300 sellers you are approaching critical mass," she says. The success rate – the number of times a search comes up with what a prospective buyer is looking for – is 71%. "Once you start moving towards 100%, you have a captivated audience," she says.
Storefronts can be set up in "a matter of minutes", says Butters. "It's a really easy consumer-like experience." However, GoDirect Trade does carry out due diligence checks on vendors, who must be "mapped to a company". The platform has a global reach, but 70% transactions are US-based. The average order is $10,000, although the products on sale range from "nuts and bolts" to multi-million-dollar engines. "Just a few short months after we went live, we sold a used $100,000 turbofan engine " says Butters. "To me, that's an obvious signal that this customer base is ready to purchase online."
She believes the platform has the potential to be truly disruptive in a market still where it is still common to carry out transactions by telephone, email and fax. GoDirect Trade, she says, "is blazing a trail to push the aerospace parts industry far outside its comfort zone."