The company has a change agenda for the 2020s and beyond
From its origins in heating controls in the early 20th century through its merger with AlliedSignal in 1999 to become one of the world's most powerful industrial companies, Honeywell has long been renowned as a manufacturer of intelligent hardware, across a number of sectors – including its biggest, aerospace. There the Honeywell brand is behind a plethora of products in mechanical systems, avionics, connectivity, and propulsion. Few aircraft take to the skies – or satellites to their orbit – without the help of technologies designed and built by Honeywell.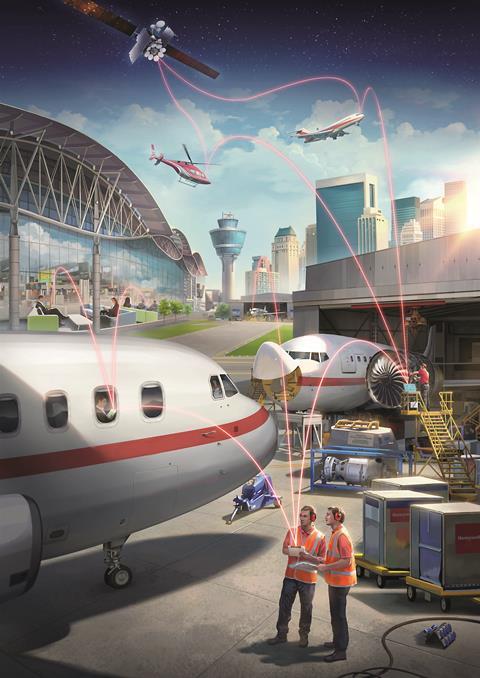 However, chief executive and chairman Darius Adamczyk wants Honeywell to be much more than that. His "connected enterprise" vision involves harnessing concepts such as the internet of things and big data to provide customers with real-time intelligence to help them run their businesses more profitably, with initiatives such as Honeywell Forge. He is also encouraging managers to deploy the sort of digital tools – such as blockchain – that will make Honeywell an agile and "fully digitized internal organisation".
In aerospace – the market that this special supplement, produced in association with Honeywell Aerospace, focuses on – the company's transformation is taking many different forms. As well as pioneering disruptive technologies in emerging segments such as urban air mobility and electric propulsion, its engines and power systems business is deploying big data analytics that allows operators to predict accurately when components will require maintenance, repair and overhaul, as well as giving them feedback on how efficiently they are flying.
Honeywell has long been a leader in the sorts of technologies that make aviation safer and easier for pilots – from integrated flightdeck displays to navigation and surveillance systems. That progress continues, with Honeywell working on the next-generation of cockpits that promise to be even more intuitive and interactive, helping crews understand their environment better than before. For passengers, Honeywell's latest connectivity solutions are providing ever-faster links to the ground, giving them the sort of internet speeds and reliability they expect in their home or office.
Although known for its top-end technology, Honeywell is also proving that it can scale down for new market demands, whether it is producing simpler and higher-volume applications for lower-cost commercial satellites or miniaturised units for the smallest business jets that allow operators to generate on-ground auxiliary power for the first time. Honeywell is also bringing the sort of cockpit technologies commonplace in the business aviation world to the owner-pilot piston-powered segment, courtesy of its semi-autonomous BendixKing brand.
In the mechanical systems and components area of the business, breakthroughs include an intelligent undergarment for fighter pilots that can provide instant feedback on the wearer's physiological state, valves that can make adjustments to the cockpit pressure vital microseconds faster than before, and coatings for turbine blades that mean they can operate more effectively at the higher temperatures of modern commercial engines.
In the aftermarket, Honeywell has been deploying technologies to ensure that its relationship with operators is proactive rather than reactive, turning it from mere customer support to "customer experience". Under a "Greenhouse" initiative to develop arms-length start-up initiatives within the broader company, Honeywell has even launched its own used parts trading portal, the only one that uses blockchain to ensure buyers can verify the veracity of an item for sale.
It all makes for a different Honeywell Aerospace for the 2020s and beyond than many will have been used to. The industry-leading products that have a heritage going back decades and the assurance of the Honeywell mark of approval are still there. But there is a new approach to market that is digitally-driven, nimbler and more responsive to the demands of the customer. We hope you enjoy reading this content partnership and finding out more about how Honeywell is shaping the future of aerospace.
This content was paid for by Honeywell and created in association with FlightGlobal