Its industry-leading products include the HTF7000 and its 131 Series, but Honeywell Aerospace is also innovating fast in propulsion, with initiatives ranging from hybrid-electric generation and compact APUs to predictive maintenance
Engines and Power Systems could rightly be described as one of the business engines of Honeywell Aerospace, with more than 72,000 engines and 100,000 auxiliary power units (APU) delivered over the past 60 years by Honeywell and its legacy brands AlliedSignal, Garrett and Lycoming. The strategic business unit's main campus next to Phoenix's Sky Harbor produces the HTF7000 family that powers midsize and super midsize business jets such as the Bombardier Challenger 350, Gulfstream G280, Embraer Praetor 500/600 and Textron Aviation Citation Longitude. Other key programmes include the TFE731 turbofan, T55 turboshaft, and TPE331 turboprop.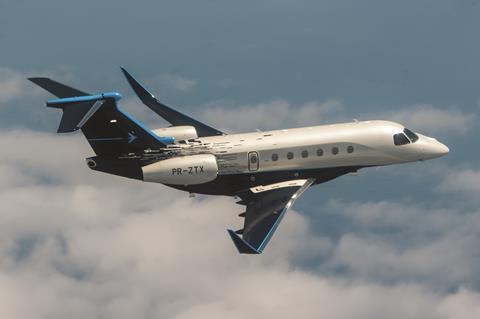 Honeywell is also the largest manufacturer of APUs, with some 36,000 of its units still in service. It has been the sole supplier on every Boeing 737 with its 131 series and is one of two selectable options on the Airbus A320neo. With a range of products covering requirements from 50shp to 1,700shp, other applications include the Airbus A220 and around 150 regional and executive jet as well as military aircraft programmes. The strategic business unit's portfolio also includes electric power generation, conversion, and distribution systems and ram air turbines.
With a huge Honeywell-powered fleet providing maintenance and retrofit opportunities, and a strong presence on in-production programmes, the business combines a focus on the present with an eye on the future, explains Brian Sill, president engines & power systems. "We take our installed base and ongoing production base very seriously, and will continue to serve those customers with the most compelling and flexible aftermarket solutions and upgrade packages," he says. "We are continually investing in future technologies such as lower noise, lower fuel burn, lighter materials, and lower emissions."
Other possible technologies of tomorrow include new forms of propulsion and power generation. In June 2019, Honeywell and Japanese auto company Denso said they were collaborating on developing hybrid-electric and fully-electric powertrains. Honeywell had already unveiled a hybrid-electric turbogenerator prototype early in the year, based on its HTS900 engine. The business has also branched into ultra-light "micro power units" for business jets and turboprops, unveiling at October's National Business Aviation Association convention a "first-of-its-kind product" able to provide an 80% reduction in on-ground fuel burn.
Honeywell's HTF7000 remains its flagship engine product, with applications that include the top-selling super-midsize jets and several variants entering production, and more than 1.7 million flight hours. While the company expects these types, and the super-midsize segment itself, to be around for "quite some time", says Dave Marinick, general manager of the engines business, "we continue to work on technological developments". He adds: "We don't always announce the details of what we are doing, but we are focusing on higher fuel efficiencies, lower emissions, and how to deliver longer time on wing."
On the military side, one of Honeywell's most important programmes is the T55 turboshaft family. With a heritage going back to 1955, more than 6,000 variants of the engine have been produced, logging some 12 million hours of operation on the Boeing CH-47 Chinook. "We have a very long relationship with the US Army on the Chinook," says Marinick. When the T55 was launched, it produced 1,600shp. Today's version delivers three times that amount.
A new "Evolution" T55-714C will soon be available, offering 25% more power and reliability, and a 10% improvement in fuel burn. "It's a drop-in replacement," says Marinick, who adds: "Turboshaft represents a big part of our investment plans going forward." Meanwhile, its TFE731 has been a business aviation stalwart since its introduction in the early 1970s, with 100 million flight hours on 30 aircraft types, and continues to power the Dassault Falcon 900LX trijet as well as the Bombardier Learjet 75 / Liberty. The TPE331 turboprop is the powerplant for the General Atomics MQ-9 Reaper, among others.
Honeywell has been delivering APUs since inventing the technology in the late 1940s, and general manager Bob Buddecke says "we are very comfortable with our position in all three sectors (airlines, business aviation, and military), but we are not complacent". Alongside its sole-source position on the 737 Max and A220, Honeywell has a "very successful" forward-fit and retrofit programme on the A320 family of aircraft, and is also on the Irkut MC-21 and Comac C919. Its range extends down to the compact RE100 that provides auxiliary power for the Citation Latitude and Bombardier Learjet 75.
Its NBAA launch of the Micro Power Unit, or mPU, takes Honeywell even further down the segment, into aircraft too small for an APU to be fitted, including helicopters. The 34kg (75lb) unit "avoids the hassle of securing costly or simply unavailable ground power – particularly in remote locations", it says, and is able to provide 10kW of power, enough for tasks such as operating air conditioning, charging batteries, and assisting the main engine start, while using a fifth of the fuel that a main engine would.
Buddecke says Honeywell has had "enormous customer interest" since the announcement and is having "forward-fit discussions" with a number of manufacturers. However, it expects even more opportunity in the retrofit market – the mPU can be mounted with a simple bracket. "There are economic benefits, but its other great advantage is the convenience," says Buddecke. "You can run your avionics on the ground, keep your cabin comfortable at all times, and go anywhere you want to go."
The engines and power systems business is playing a major role in Honeywell's connected aircraft initiative (see Page 14), with maintenance plans for both engines and APUs designed around how the operator is using the engine, with this, in turn, based on service data based on thousands of parameters recorded in flight. That is then available almost immediately to both the manufacturer and the customer. "The more efficiently the aircraft is used, the less they pay," says Sill. "They can track it all on a dashboard, so what we are doing it providing them with intelligence to make the right decisions."
The electric propulsion collaboration with Denso follows Honeywell's first footsteps into the hybrid electric market, when it unveiled its hybrid-electric turbogenerator at Heli-Expo in March. The prototype uses a gearbox mounted onto a HTS900 – the engine used on Kopter's SH09 light turbine helicopter and on Eagle Copters' Eagle 407HP conversion of the Bell 407 – to drive two 200kW generators. The system burns conventional or bio-derived jet fuel and can feed motors or high-capacity batteries.
"Hybrid electric will be a very interesting market for us. We believe we have every right as a comprehensive power systems enterprise to compete there," says Marinick. The partnership with Denso combines the strength of both players, with Honeywell's expertise in in-flight controls and the Japanese firm's track record in mass-producing electrified propulsion units for cars. "We are doing what an automotive company or an aerospace company could not do on their own. This market [urban mobility] isn't going to behave like a traditional aero market, nor as an automotive market," he says.
Honeywell's current marketplace continues to be crucial. However, for the engines & power systems business, the next few years promise to be eventful. "We're not done. We have a great pipeline of technology," says Sill. "And we continue to invest in traditional architectures as well as hybrid and all-electric. We are well positioned to play in all these new segments with the certification experience we have. We're excited about what we've done, but we're even more excited about what we are going to do."
This content was paid for by Honeywell and created in association with FlightGlobal
Reinventing Honeywell
1

2

3

4

Currently reading

Powering in a new era

5

6

7

8

9

10

11

12

13