For Honeywell, connectivity goes beyond simply enabling passengers to surf the internet - although it is a leader in this technology. Today, it means linking a host of on-board components to analytical tools, helping operators understand their aircraft better
Honeywell Aerospace has been linking aircraft and their passengers to the web for decades – providing both the on-board hardware and airtime services themselves. But in the past year or so, connectivity has taken on a new dimension, with the launch of a group-wide initiative spanning all the industries Honeywell serves, called Honeywell Connected Enterprise (HCE). Backed by Honeywell Forge, a data platform with a family of analytical software packages, the idea is that users of Honeywell hardware – from aircraft components to building climate control systems – can obtain regular feedback on how that equipment is performing.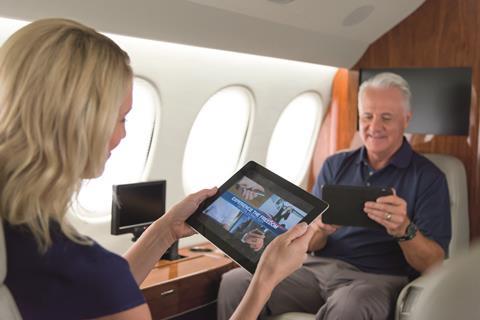 Honeywell Connected Enterprise concentrates on areas such as software development, data protection and cyber security, as well as giving an impetus to the initiative from the head office. Meanwhile, in each of Honeywell's four main industrial sectors – aerospace, building technologies, performance materials, and workforce – the business will "look for connections to customers and really understand their challenges", explains Ben Driggs, the president of the connectivity business in aerospace.
Aerospace, which represents a large portion of Honeywell's $1.5 billion of "HCE-driven sales", has been key to the Connected Enterprise initiative. On top of its established suite of aircraft connectivity products, the aerospace business added in 2015 an aviation software company called Aviaso that provided a tool to airlines to help them calculate fuel efficiency. That service is now part of the Honeywell Forge for Airlines offering, a "dashboard" or single-user interface that also includes prescriptive maintenance analytics, and formerly branded GoDirect Flight Efficiency and GoDirect Connected Maintenance.
Honeywell Forge for aircraft involves sourcing and processing streams of "big data" from devices attached to a host of Honeywell products, from engines and auxiliary power units to small components. Honeywell is also working with other suppliers to include metrics from their products. "We want to partner with them to create an integrated solution, available with just one click," says Driggs. Around 32 airlines are currently using the flight efficiency software, among them Etihad, Finnair, Kuwait Airways, Japan Airlines, Lufthansa, Nippon Cargo Airlines and Turkish Airlines.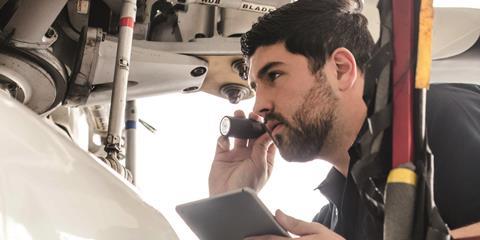 The offering is intended to have a direct impact on the bottom line, says John Peterson, vice president and general manager of software and services in Honeywell Connected Enterprise, aerospace. Annual savings can be as high as $140,000 per aircraft, while maintenance bills can come down by $40,000 per tail. "Airlines today are trying to meet very tight margins, while also improving operational efficiency, and Honeywell Forge Flight Efficiency helps on both fronts. We give operators information they can use to develop, implement, sustain and measure fuel-efficiency initiatives," he says. "It puts them in control."
In terms of in-flight connectivity for passengers, Honeywell continues to innovate. Its JetWave system operates on Inmarsat's Jet ConneX, Ka-band satellite communications network, with 1,500 systems installed over the past four years with about half going to airlines and the other half to business jets. There is plenty of scope for growth in the airline sector as passengers increasingly demand the same sort of internet access they enjoy at home or at work. "Over half the passenger aircraft in the world still do not have a broadband connection," he says.
While checking Wall Street prices or catching up with a favourite sports game may be important for commercial passengers, the military market also presents an opportunity for connectivity products. The US Air Force has selected JetWave for its Boeing C-17 Globemaster fleet, and other customers include the Royal Australian Air Force on its Lockheed Martin C-130s. "That segment is starting to emerge," states Driggs. "Military operators are releasing the value of having strong broadband connections for missions such as disaster relief."
As well as providing the connectivity hardware – the on-board equipment that is the link to the satellite network – Honeywell also supplies the airtime and data services themselves, including those provided by third-parties such as SmartSky, with a wide range of access packages. Additionally, Honeywell-approved centres can fit the kit. "Not only is our GoDirect router the best in class, but one of the things we strive for is a system that is easy to install," notes Driggs.
With Honeywell Forge, flight efficiency and prescriptive maintenance are "just the beginning", says Driggs. "Going forward, we will be adding additional features." One of these is smarter flight data recorders that not only meet the new mandate for 25h recording of cockpit voice communication, but can also connect to satellite networks to transmit the voice data in real-time, a feature that might well have solved the mystery around the disappearance of Malaysia Airlines Flight 370 in 2014. The retrofittable devices, produced in partnership with Curtiss-Wright, should be available on the market by the end of 2020.
Honeywell firmly believes that connectivity – and the analytic insight it makes possible – is the future of the aviation industry, going beyond simply enhancing the in-cabin experience to add value throughout the aircraft, reducing costs and increasing revenue potential. "The big message from us is that we are one of the few players with products across the spectrum. Needs and focus will vary from one market to the next, but they all need solutions," says Driggs. "We are not only providing what is needed today but doing a lot of thinking into what will be required in five or 10 years' time."
This content was paid for by Honeywell and created in association with FlightGlobal