Boeing has seen a strong market return for its 737 Max since flights resumed 18 months ago, and the company continues working through the Max's outstanding certification in China while clearing its hundreds-strong Max inventory, says Boeing commercial airplanes head Stan Deal.
The manufacturer has faced a string of challenges in returning the Max to service, notable among those being the work of bringing the 383 aircraft that were flying prior to the March 2019 grounding back into service. The airframer has also been challenged in delivering its own inventory of Max – aircraft assembled but not delivered during the grounding. The ensuing pandemic slowed the pace of that work.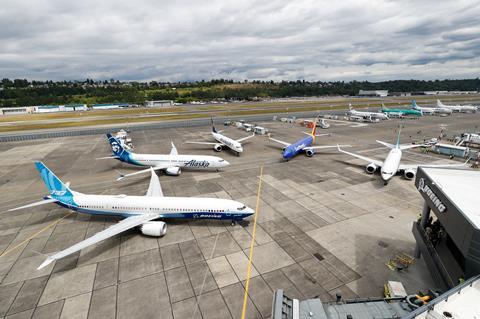 Speaking to FlightGlobal at the recent IATA Annual General Meeting in Doha, Deal says: "Largely, we have ungrounded all the airplanes around the globe, except the aircraft in China… We are in the midsts of liquidating the inventory we accrued while the Max was grounded. We continue to add resources… to get more of those airplanes liquidated faster.
"That is going well. That is not an easy job," Deal adds. He notes that assembling new jets takes "almost as much time" as updating previously assembled jets to the Max's approved post-grounding configuration, which includes a modified flight-control system. "You have to update the standard of the aeroplane to the current production build, plus [make] the changes we committed to on the airplane," Deal says.
Boeing, in its most-recent financial results, reported still holding 320 undelivered 737 Max at the end of March.
While the Max began returning to service some 18 months ago, Chinese operators have yet to resume flights. Last December, the Civil Aviation Administration of China issued an airworthiness directive clearing the way for Max's return, but further lockdowns and travel restrictions amid China's continued zero-Covid strategy has stifled demand in the country. Max deliveries are yet to resume.
"Having been a part of that process, the CAAC has done everything they said they were going to do," says Deal. "They had talked about the fact they were going to have to take more time… They weren't going to be part of the initial four [regulators to recertify]. They were very candid about that, but they were very committed to recertify.
"Airlines are still keeping the aircraft to fly," he adds. "We've got to see the demand come back, and I think you'll see that happen shortly, but I can't predict when."
For customers now flying the type, Deal says the reaction has been positive. "It's flown almost 1.5 million flight hours. Reliability is at almost 99.5%. Consumer response has been very good. For airlines, fuel burn is better than what they anticipated. It is doing what it's supposed to be doing," he says.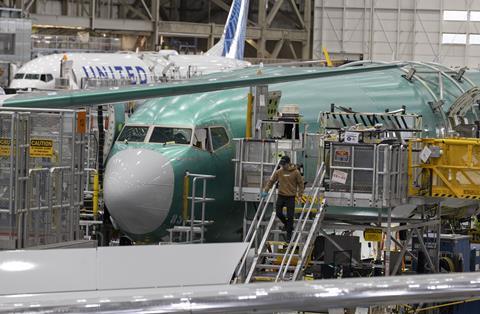 Deal also points to continued interest in the type, underlined by Norwegian saying yesterday that it firmed an order for 50 Max 8s. "We sold nearly 750 airplanes last year in the Max family, and this year we are off to a really good start. So I don't worry at all about the order base," he says.
Deal's 750 figure does not account for the roughly 390 737 Max cancellations Boeing logged in 2021, which left it with about 350 net new orders in last year, Boeing's figures show. In the first five months of 2022, Boeing took new orders for 184 Max, offset by 52 cancellations, for 132 net new orders.
One customer to recently join the ranks of Max operators is Ryanair, which took its first Max last summer and plans to operate 70 of the type this summer.
However, Ryanair chief executive Michael O'Leary last month said the airline still has challenges with aircraft deliveries, adding he is "disappointed" with Boeing's response since the breakdown of talks last September over a possible order for Max 10s.
"We have to stop being late on their deliveries… We own that," Deal says in response. "When you buy that many airplanes, you earn the privilege to be the ultimate critic. And we've earned some of the criticism on schedule performance.
"I want to get more predictable for Michael… I'm working on that," Deal adds. "He'd like that to be tomorrow, and I'm working on making that tomorrow."