The sector has thrived through the Covid-19 era and its aftermath, with a flurry of programme launches. The next 12 months could see a return to quieter times?
Along with cargo, business aviation was a pandemic success story – it prospered as the commercial passenger sector faltered. Demand for private jet travel continued strongly into 2022 even as airliners returned to the skies. However, are the next 12 months when things start to slow?
Towards the end of 2022, data specialist WingX was reporting that the "post-Covid rebound in bizjet flights in Europe is ebbing fast" and that while the US market is "holding onto its gains… the charter market is softening".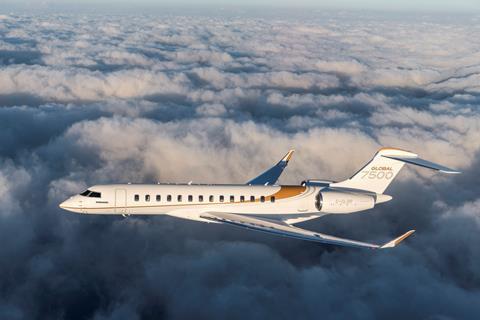 This is a result of weaker business confidence, inflation and higher interest rates discouraging investment. Meanwhile, airlines are aggressively tempting back premium travellers that might have been lured to charter, with loyalty programmes and schedules that are more reliable.
Much was made of the effect first-time users had on the Covid-19 boom in business aviation, with some estimates suggesting that 30-40% of those flying on private aircraft during the period were new to the industry.
However, consultant Brian Foley is sceptical. He concedes many were persuaded to sample business aviation for the first time in 2020 and 2021, but most were one-off travellers, nervous about contracting the virus or who needed to get somewhere, and are unlikely to repeat the experience.
"Although there was a pretty good spike in utilisation during the pandemic, and bragging about first-time users, a lot of it was grandma and grandpa flying it once," he says. "It wasn't a fundamental shift in demand."
However, he does suspect that enough converts will remain loyal to business aviation to ensure that demand will "normalise" at around 10% higher than 2019 figures in 2023. "I think we will end up with a slightly higher baseline as a result of some of these new users remaining," he says.
The Covid-19 period and its aftermath also saw a raft of programme announcements, especially at the upper end of the market. Although all these aircraft had been on the drawing board well before the pandemic, manufacturers were confident enough to go ahead with launches.
All three rivals in the ultra-long-range segment revealed new types within 18 months. Despite the cancellation of that month's EBACE industry convention, Dassault started the trend in May 2021 with the unveiling of the 7,500nm (13,900km)-range Falcon 10X, its largest business jet.
Gulfstream followed in October that year with its longest-legged product, the 8,000nm-range G800, which, like the 10X, is powered by a variant of Rolls-Royce's Pearl engine family. The airframer rolled out the first test aircraft during a ceremony at its Savannah headquarters.
RANGE FINDER
Last to the party at 2022's EBACE in Geneva was Bombardier with the Global 8000, a reworked version of an earlier planned stablemate to its Global 7500. Like the G800, the Global 8000 has, as its name suggests, a range of 8,000nm.
There has been less activity elsewhere. At the same time as it revealed the G800, Gulfstream announced the 4,200nm-range G400, which completes a trio of large-cabin types with the G500 and G600, and gives the US manufacturer the most comprehensive range in that part of the market.
Meanwhile, also that month, Honda Aircraft took the wraps off its 10-passenger 2600 concept. Although not a formal launch, the aircraft, if it ends up built, will straddle the light-jet and midsize segments and be a sibling to the original HondaJet light jet.
The launches at the top end of the market mean the big three competitors have caught up with each other and have their hands full for the next few years certificating and delivering their latest products. Dassault's smaller 5,500nm-range Falcon 6X is also due to enter service in mid-2023.
However, Foley is surprised that there have been few significant developments in other segments. Embraer launched its Praetor 500 and 600 pairing in 2018, but they were updates of its Legacy 450 and Legacy 500, already a decade or so old.
The last all-new model from Textron to enter service was the super-midsize Longitude in 2019. The manufacturer has been preoccupied with the certification of its single-engined Beechcraft Denali, due for certification in 2023, and its Cessna SkyCourier utility twin-turboprop, which entered service in 2022.
Meanwhile, other than name changes and updates, the designs of Bombardier's Challenger 3500 and Challenger 6500 date from the late 1990s and 1970s, respectively. With both still selling fairly strongly, Foley doubts whether the debt-laden airframer is ready to "roll the dice" with replacements.
At this end of the market, says Foley, manufacturers have traditionally substantially updated their offering every seven to 10 years, but in recent years they have tended to take "shortcuts", making small design tweaks, and "adding a zero", a reference to Bombardier's practice of refreshing its Challenger brand. "Several of them are now stuck with older products, and they will need to make some major improvements on performance, range or cabin size, instead of just moving a cabin ledge," he remarks.
Production across the industry is likely to continue at a "slight uptick" on 2022 levels, says Foley. Although lead times for newer aircraft at the top end of the market in particular can be upwards of two years, most manufacturers are not planning to speed up output.
This is because most customers are prepared to wait, and airframers are happy because it means they can maintain book to bill ratios and avoid discounting, suggests Foley. Keeping production steady also suits manufacturers faced with supply chain pressures and labour shortages.